When I think back about it, the thing that stands out the most in my mind is feeling like someone had stabbed me in the lower back.
Not too long ago, I had the "what is your favorite image you've ever produced" discussion with an acquaintance. I've always had a problem answering this for a couple of reasons. First, since I've shot a number of different genres (corporate, scenic, music, sports, etc.), different types of images stand out. Also, I'm incredibly tough on myself when I edit my images. But what makes this particular image special is what I had to go through just to capture it.
My first job out of school was working as a staff photojournalist for The Paris News, a 12,000 circulation daily in northeast Texas. During that time, the photographers carried mobile police scanners that alerted us to breaking news situations, also referred to as "spot news."
During the late '90s when I worked there, the summers were incredibly hot with highs regularly over 100 degrees. On one particularly brutal Friday afternoon, I had an assignment to shoot an environment portrait of the assistant city manager with blueprints of an upcoming project. It was a quick, run-of-the-mill assignment, so I left my scanner in the car. Fifteen minutes later, we walked out the building to see a massive plume of smoke rising from the residential neighborhood approximately two blocks away. As we both stopped in our tracks, the assistant city manager looked at me and said, "Well, I guess we both know where your next assignment is."
I jumped in my car and sped around the block as the scanner was going crazy with activity, calling for all fire units to respond. I parked down the street and began running down the block to see an older, two-story Victorian-style home engulfed in flames, what fire crews call "fully involved."
At the time, I carried a large camera bag to hold all of my equipment. As I sprinted down the street, the bag started to slide off my right shoulder and I turned my upper body to catch it. As soon as I jerked my body to the right I felt a "pop" as I pulled a muscle in my lower back and a sharp, shooting pain surged through my body. I staggered forward and managed to catch myself.
Slowly, I managed to walk slowly towards the scene as stiffness and immense pain hammered the lower right portion of my back. Thankfully, the adrenaline of the situation helped dull the pain enough so I could concentrate on shooting.
As I finally got close enough, I started working the scene by shooting the fire from different angles. The heat from the massive fire combined with the record triple-digit temperatures we were experiencing that summer made the entire area feel like an oven.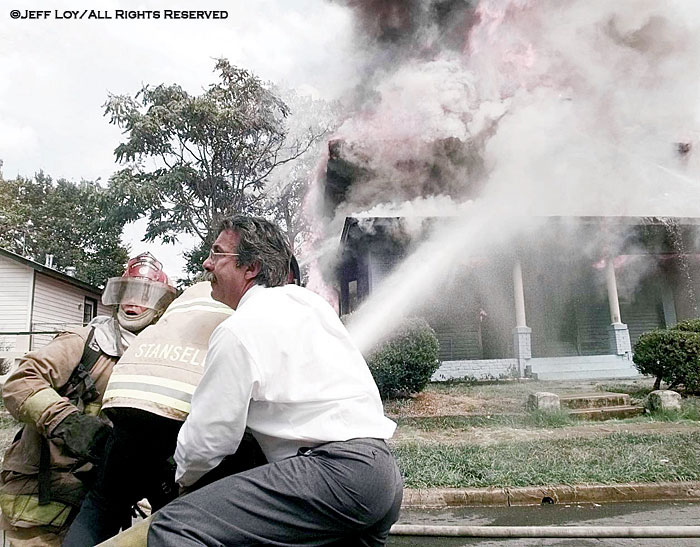 During all of this, Steve Bergin, the city's fire chief, had arrived on the scene, running a couple of blocks over from his office. Apparently he had been attending some function that day and was still in a dress shirt and tie. Bergin jumped into action, helping to man a hose spraying down the front of the house. I was able to get close enough with a wide-angle lens to frame up Begin, the other firefighters and the inferno. After shooting a few frames, I lay down on the street, to get a slightly lower angle and also to provide relief for by back. At one point, Bergin turned his head to yell a command and I hit the shutter release. I shot from a variety of other angles including by a fence next to the house, where the heat from the fire was incredible (At one point, I began seriously wondering at what temperature a camera would start to physically melt). In the end, the frame of Bergin was the keeper that ended up making page one on Sunday and is still on of my key pj images in my portfolio. I suffered through a high school football game that night and spent the rest of the weekend on my couch taking way too much ibuprofen.
An effect from that day is that I stopped carrying camera bags during assignments. I was in my early twenties and was starting to have lower back issues. A little research determined that camera bags compress your spine and put unneeded pressure on your lower back. It also doesn't help if you're like me and carry everything including the kitchen sink on assignment. Although I still use camera bags for transporting my equipment, I started wearing waist packs to carry equipment on assignments and long term shoots. This puts the weight on my legs (where it should have been all along).
I still wonder, though, at what temperature a camera starts melting. At my age, I think I'll let someone else figure that out.