The recent announcement of The Rolling Stones' upcoming Dallas dates took me back to when I ended up a few feet from them and learned something from it.
When I graduated with a photojournalism degree in 1997 and landed my first job at The Paris News in Paris, Texas, I knew there was a lot to learn. I just didn't realize how quickly the lessons would come or that they would stick with me for so long.
Within the first few weeks, I was tossed into a regular rotation of high school sports, storm chasing ("Oh, okay…that's what a wall cloud looks like!"), car wrecks, house fires and a plane crash on a major highway. You know, the normal stuff.
Then came Mick and Keith.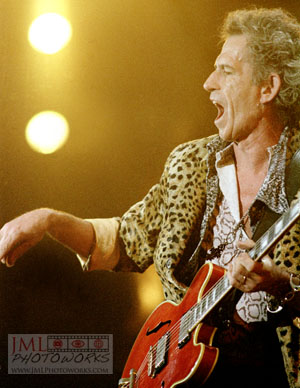 I was working in the newspaper's photo office one day when the chief photographer stuck his head in. Apparently he had put in for a photo pass for the Rolling Stones' show at the (then) fairly new Texas Motor Speedway in Fort Worth and couldn't make it. Did I want to take it?
I had spent my late high school and early college years in the Deep Ellum area of Dallas, cutting my photography teeth by shooting bands in what was then a burgeoning music scene. Aside from photography, music was one of my main loves in life and I dug every second of combining my two loves. So getting the change to shoot the freaking Stones?
Yeah, I could give up a Saturday night for that.
Once I arrived at the show, I quickly started thinking that maybe I was in a little over my head. I got my credentials and joined several other photographers in the staging area outside the Speedway, covertly checking their press passes: Associated Press. Dallas Morning News. Fort Worth Star-Telegram. And then there was green-as-you-could-get, 23-year-old me. Yikes.
I decided to just play it safe and hang back. Stay out of the way and just try to get something, anything, in focus.
The stage was in the infield area, so we boarded a van and were shuttled to the backstage area. We all filed out and were taken to the side stage are for the briefing. Essentially, it went like this: These are the lenses the tour photographer is using each night, so you might consider those. You'll be split into two groups, one on the right side, one on the left. Mick and Keith know you're there and will play to the camera, so don't stress about getting shots. You'll have the first two songs to shoot (which was and more or less still is the norm). The first song would be "Satisfaction", so once the house lights went out, listen for the opening riff. Now the important part: The pyrotechnics that would be going off in front of us (!). Yes sir, you have my attention.
Along with listening for the iconic opening riff of "Satisfaction", we were told to close our eyes and look down. We would hear a hissing sound, which would be the pyro getting ready to go off. Once we heard (and felt the heat of) the pyro, we were free to shoot away. If we looked up to early and saw the explosion, we would be blinded for the next few minutes and wouldn't be able to shoot anything.
We were split into our groups in the photo pit in front of the stage and the luck of the draw put me with photographers from the A.P. and the Dallas Morning News. I knew both guys' work and was intimidated beyond belief. We spent the short period before the show chatting and it turned out they were great people. Professional-level digital cameras had just come out and we were using them, commiserating about how bad the quality was (Google "NC2000e" and then thank whomever you choose for your iPhone camera). I was shooting film as a backup and they were somewhat envious that I still had that option.
The lights went out, the crowd roared and our adrenaline started flowing. Time to go to work.
We survived the slightly less than thermonuclear blasts in front of us and started shooting what still is one of the highlights of my career. In short time, I went into automatic mode: Once a card on the digital went full, I let it download to the disk and went to film. When the roll was done, I let it rewind and started shooting on a new card with the digital. Back and forth through "Satisfaction" and "It's Only Rock and Roll (But I Like It)."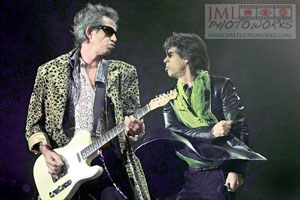 It was over far too soon and we were ushered backstage to hop in the van and be ushered back to the entrance. On the drive back there was a lot of banter about being that close to the pyro and how well the band moved for a bunch of old guys. Me? I was just happy I survived.
I processed the film and downloaded the images the next day, surprised at the number of keepers I had managed to capture. Almost 20 years later, I still have one of the images of Keith Richards shot on the film camera in my portfolio. The funny thing is I don't even remember shooting it. It just showed up.
The lesson I took away from this was not to get caught up in what you don't know or what you might screw up. Just do what you know how to do and everything else will work out.
After all, it's only rock and roll.